Choral:
Untitled Work for SATB & Chamber Orchestra (2017)
Commissioned by Coro Allegro. Completion date approximately July, 2017.
Premiere date: March, 2018.
Embroidered Verses (2015)
For S.A.T.B. and takht: Nay (ad lib.) qanun, oud, percussion, violin & cello. Duration ca. 19 minutes. Embroidered Verses was commissioned for the Crossings Choir under Donald Nally and the Al-Bustan Seeds of Culture Takht ensemble through a grant from the Pew Trust. The work is a setting of four Arabic Andalusian poems for a western choir and a traditional Arabic ensemble. The poems are a by Ibn Khafaja (11th century Alzira) Um Al-Kiram (11th century Almira) and A-Qazaaz (11th century Almira) as well as an anonymous text.
Watch selected excerpts from the premiere performance (December 5th, 2015) at Bryn Mawr College.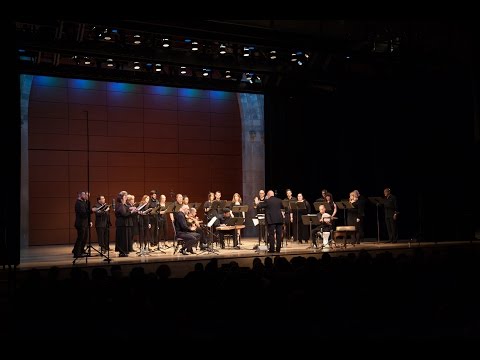 Scores and parts available through ECS Publishing here.
Oratorio for Trumpet, Percussion, Soloists (Soprano, Mezzo Soprano, Alto, Tenor & Bass Baritone) S.A.T.B. & Organ.
Text by Kahlil Gibran from "Jesus The Son of Man: His words and His deeds as told and recorded by those who knew Him"
Duration ca. 58 minutes
A WOMAN, ONE OF MARY'S NEIGHBORS:
A Lamentation (2011)
For mezzo soprano soloist and S.A.T.B. The a capella movement from The Son of Man can be performed as a stand alone work. Duration ca. 5 minutes.
For S.S.A. & piano.  Three movements based on the poetry of Ibtisam Barakaat. Duration ca. 12 minutes